Webinar: Digi-Key, Siemens on Reliable Power Supplies for Automation and Control Systems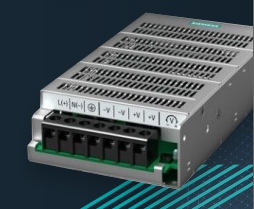 It takes place on Tuesday, 8 March, at 11 a.m. (CST) and will be presented by Greg Kateb, SITOP power product consultant for Siemens.
Spcifically, Kateb will address a variety of scenarios that a power system might face, such as short circuit at an end device, unusually high current draw due to device malfunction, and blips due to brown outs and other disturbances in the incoming AC feed…
The presentation will cover:
The advanced features and comprehensive diagnostics offered by a standard power supply.
How well PSU6200 with SEL1400 Selectivity Module mitigates overload and short circuit situations.
Why the SEL1400 Selectivity Module is a more reliable power security option compared to traditional mini circuit breakers.
How to accomplish power reliability with common configurations using the best-in-class SITOP power products while getting applications IIoT-ready for the digital age.
To attend the webinar, you will need to submit a registration form. And if you can't attend the live webinar, Digi-Key will send the recording after the event to those who register.
"Efficient and reliable power supply is the most basic requirement for operating any system, and particularly in automation and control settings," said Eric Halvorson, partnership marketing manager for Digi-Key. "This webinar will guide engineers in our community on how to avoid faults that could disrupt manufacturing processes and result in unexpected expenses and costly delays."

Host

The webinar host, Greg Kateb, has more than 15 years of experience as an engineer and consultant in critical power applications for both commercial and industrial installations.
He specialises in Uninterruptable Power Supply (UPS) and battery technologies along low voltage distribution.
"I'm excited to highlight how incredibly reliable SITOP low-voltage power supplies are," Kateb said. "They feature a compact design and powerful performance, and can ensure continued supply of clean and uninterrupted power to control or automation systems."
See also: Digi-Key integrates CalcuQuote for 30-day pricing
Design and demand partnership fills the void in ventilators

Embedded World still set to go ahead despite further drop-outs

CUI adds GaN desktop adapters to ac-dc PSU line

TT Electronics launches 150W medical and industrial PSU