UK's first satellite launch to serve CIRCE space weather monitoring mission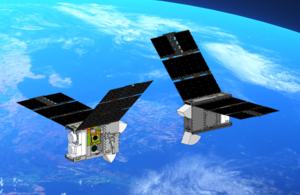 The Defence Science and Technology Laboratory and UK Space Agency (UKSA) have confirmed they will be one of the payloads aboard Virgin Orbit's Launcher One rocket, which will take off horizontally from a modified Boeing 747 jet, named Cosmic Girl (pictured right).
CIRCE
The Coordinated Ionospheric Reconstruction Cubesat Experiment (CIRCE) satellite mission comprises two 6U cube-satellites that will be launched into a near-polar low Earth orbit in a string-of-pearls configuration (targeting 555 kilometres altitude).
Each 6U satellite bus measures 10cm by 20cm by 30cm and will fly almost identical instrument capability on both satellites.
Dstl is partnering with the US Naval Research Laboratory (NRL) on the joint mission.
"Defence science and technological activity in space has never been more important, whether it is in support of military operations or helping to combat climate change, defence innovation is at the forefront of this work," said Air Vice-Marshal Paul Godfrey, Commander of UK Space Command.

"After it enters orbit from Spaceport Cornwall, CIRCE will enhance our understanding of space weather and help us to keep critical satellites safe from the many hazards associated with operating in space."
Specifically, the UK contribution to CIRCE is the In-situ and Remote Ionospheric Sensing (IRIS) suite, complementary to NRL sensors, says the UKSA.
It comprises three miniaturised payloads developed for Dstl by University College London, University of Bath, and Surrey Satellite Technology Ltd (SSTL).
Apparently, CIRCE will characterise a region of the space environment, the ionosphere, which is important for a range of defence and civil applications and can impact GPS, communications and sensing technology (both in space and on the ground).
The miniaturisation of space weather sensors means that a significant capability can be packed into each satellite bus provided by Blue Canyon Technologies.
According to the UKSA, this type of miniaturisation could pave the way for the deployment of many more such sensors as a routine inclusion on other satellites. This would expand data collection for the near-Earth space environment, and enhance space weather modelling capabilities.
Space weather
"The CIRCE space weather experiment will join a host of small satellites on board Virgin Orbit's first launch from the UK, and it's exciting to see the wide range of commercial, academic and government partners who will share this moment in history with us," said Dr Paul Bate, CEO of the UK Space Agency.

"We are on track to meet our ambition of becoming the first country to offer commercial launch services from Europe, catalysing investment into our growing space sector and creating hundreds of new jobs. I can't wait to see Cosmic Girl take to the skies above Spaceport Cornwall later this year."
NB: Circe, in Greek legend, was a sorceress who was the daughter of Helios, the sun god, and of the ocean nymph Perse.
Image: CIRCE CAD models courtesy of Blue Canyon Technologies
See also: DSTL partners with U.S. on ML support for armed forces
Astroscale, OneWeb get funding for ELSA-M debris removal service

Astrocast buys Hiber to consolidate satellite IoT services

Euroconsult sizes $4.4bn Space Logistics market

Orbex unveils prototype of 3D-printed Prime space rocket for Space Hub Sutherland