SSTL to lead UK Space Agency LEOPARD project for removing debris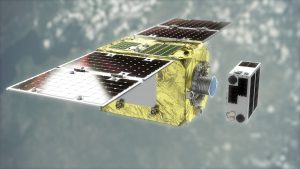 The Guildford-based company specialises in the manufacture and in-orbit operation of small satellites, and it highlighted its experience in two previous Active Debris Removal (ADR) demonstration missions.
The first, RemoveDEBRIS, concluded a series of debris retrieval demonstrations back in January 2019. The second was Astroscale's ELSA-d mission (pictured), in August 2021, for which SSTL supplied the Client "target" satellite.
LEOPARD
The LEOPARD study involves a consortium of UK space companies and academic institutions: Airbus Defence and Space, GMV NSL, Northern Space and Security Limited (NORSS), Satellite Applications Catapult, University of Lincoln, University of Surrey and ClearSpace.
According to SSTL, the LEOPARD study will define a number of possible ADR mission concepts, using modelling and evaluation of the key technologies.
"SSTL understands the risks of space debris," said SSTL's Managing Director, Phil Brownnett. "We have significant expertise derived from over 500 operational satellite years and together with our work on ADR demonstrator missions such as RemoveDEBRIS and Astroscale's ELSA-d we are driving new concepts and technologies capable of delivering a milestone double Active Debris Removal mission for the UK. We are committed to combating the issue of space debris to keep satellites operating safely and provide a sustainable future for space missions."
Technologies for ADR could include capturing debris using a dextrous robotic arm with a refuelling interface. Or the use of a chaser satellite for rendezvous, docking and de-orbit. Other approaches mentioned by SSTL include a tethered space tug, a net capture device and a transporter chaser with multiple single-use chaser ADR spacecraft.
"Space debris poses a growing risk to satellites and the vital services they provide, as well as to human spaceflight and astronauts," said Jacob Geer, Head of Space Surveillance and Tracking at the UK Space Agency. "This new project will draw on SSTL's significant expertise and map out a new mission to remove defunct satellites from orbit. It's a great example of how the UK space sector is playing a leading role in keeping the space environment safe and secure."
Consortium member roles:
SSTL – spacecraft prime
Airbus Defence and Space – robotics and ADR capture systems, and In Orbit Servicing capabilities
GMV NSL – mission analysis, tools and Guidance, Navigation & Control software
NORSS – – orbital analysis, space situational awareness, regulatory and risk management expertise
The Satellite Applications Catapult – ground segment and In Orbit Servicing and Manufacturing simulator
University of Lincoln – mathematical modelling of close-coupled system dynamics and robotics test facilities
University of Surrey – vision instruments for close proximity operations and passive de-orbit technologies
ClearSpace – customer consultants, analysis of future market needs
Pictured below is SSTL's RemoveDEBRIS satellite.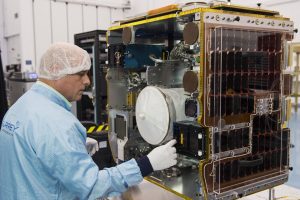 The UKSA had previously made announcements for funding projects to investigate space debris removal back in October during the 72nd International Astronautical Congress taking place in Dubai.
See also: Kessler Syndrome and the (growing) problem of Space Debris
Orbex begins construction of satellite Launch Platform in North Scotland

New Space gives way to Fast Space, Euroconsult reports

Astroscale raises $109m Series F for on-orbit servicing

U.S. Army turns to ICEYE for SAR mission imagery