Skyrora opens rocket engine testing facility in Midlothian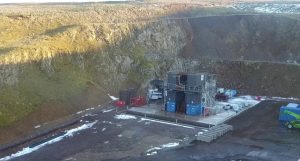 The Edinburgh-headquartered space company describes it as a state of the art facility and the UK's largest such engine testing facility.
The site was commissioned and brought into service within six months, which was made possible by a European Space Agency (ESA) grant – awarded in 2021 – as part of its commitment to encourage new commercial space transportation services. The test stand itself took a bit longer – it was designed, manufactured and commissioned in under eight months.
The 120,000 sq ft site – in the Scottish lowlands south of Edinburgh – is an addition to Skyora's other development, manufacturing, and testing facilities across the UK.
"The opening of our Midlothian site means that Britain is another step closer to unlocking its launch capacity and potential to play a bigger role in the space economy," said Skyrora founder and CEO Volodymyr Levykin.

"We would usually have the entire Skyrora family here to celebrate such an achievement, but unfortunately, our Ukrainian colleagues can't be with us. Without them, this feat of engineering wouldn't have been possible and I'm sure that we'll be able to celebrate with them again very soon."
Location
The company highlights the benefits of the site location, given its proximity to the company's other facilities.
To support sustainability, having a local test facility helps minimise having to transport engines and equipment to third-party facilities. The site also uses rainfall from the Scottish Lowlands as part of the cooling systems of the test stand.
Skyrora XL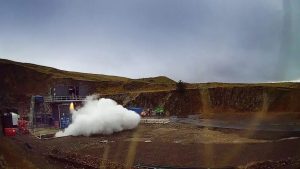 The site will allow Skyrora to conduct acceptance tests for engines on its orbital Skyrora XL vehicle, as it aims to become the first British company to complete an orbital launch from UK soil.
So far, it has already seen 15 engine tests completed, with regular weekly tests being conducted.
Skyrora's 70kN bi-propellant engine, which apparently emits half the carbon emissions of engines using liquid oxygen and kerosene, is already into verification testing at the new facility. Nine of these engines, fuelled by Skyrora's non-cryogenic propellant, a more stable fuel that doesn't need constant cooling, will power the 23-metre Skyrora XL rocket on its eventual launch from the UK, says the company.
Scottish space
The announcement comes amid a number of Scottish space-related infrastructure developments recently. As well as Orbex starting construction of a Launch Platform in Scotland near Kinloss – the first orbital space launchpad to be built in the UK for more than half a century – there was Space Scotland's production of a Space Sustainability and Net Zero Roadmap, which has the goal of making Scotland's space progress as green as possible.
"It's really exciting to see how the UK's investment into launch technologies through the European Space Agency is enabling British companies such as Skyrora to develop sector-leading facilities across the breadth of the UK," said Ian Annett, Deputy CEO of the UK Space Agency.

"Skyrora's new state-of-the-art rocket engine testing facility will help ensure the UK is at the forefront of the European space industry through the provision of attractive and reliable services and launch capabilities, supported by stable regulatory and legal frameworks."
See also: Westcott Space Cluster to support satellite propulsion testing
Space Scotland seeking Space Sustainability and Net Zero Roadmap

Prestwick Spaceport plans for position in European space race

Orbex begins construction of satellite Launch Platform in North Scotland

Holyrood launches Scottish Space Strategy for growth