SAR specialist Capella Space raises $97m Series C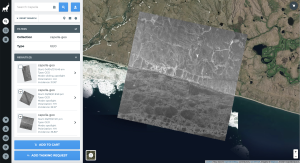 Capella says it will use the funding to expand its analytics and integrate "intelligent data offerings" within its Capella Console. For example, recently Capella launched three new analytics capabilities for Vessel Detection, Change Detection and Global Change Monitoring.
It also intends to support launching its next generation of satellites, providing improved imaging capabilities for the San Francisco-based company.
"This new funding is a testament to the market demand for quick delivery of high-quality commercial SAR data and analytics, and we're seeing it firsthand at Capella," said CEO Payam Banazadeh. "I'm excited for our next phase of growth and the opportunity to bring even more innovation and accessibility to the earth observation industry."
In terms of financial performance, the company reports it has doubled revenue in the last year and expects to triple revenues over the next twelve months.
SAR
An advantage of synthetic aperture radar – compared to typical optical imagery – is that it enables day-night, all-weather imaging. Basically, penetrating atmospheric conditions.
It can be described as a type of active data collection, where a sensor records the amount of energy that is reflected back to it, making it responsive to surface characteristics, such as building structures and atmosphere moisture.
It is a "synthetic" aperture in the sense that a sequence of data acquisitions from a shorter antenna are combined to simulate what would be much larger antenna
U.S. government
Back in January, Capella Space was among the first five commercial operators of radar satellites to be chosen to supply their data to the U.S. government.
The U.S. National Reconnaissance Office (NRO) announced the award of contracts to Airbus (U.S.), Capella Space, Iceye (U.S.), PredaSAR and Umbra.
The aim is to ensure the U.S. government has access to the best commercial remote sensing capabilities and data, as well as its own sources, for geo-intelligence purposes.
See also: LeoLabs selects Australia as site for next space radars
AFRL opens its Hack-A-Sat satellite hacking competition

UK's Avanti refinances to shed $550 million of debt

ELSA-d space debris removal mission restarts with half the thrusters

Lockheed Martin goes open-source for satellite on-orbit docking