Northrop Grumman builds for military, space operations in Albuquerque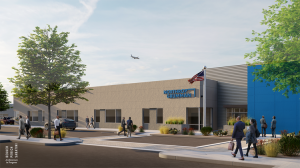 Specifically, it will be serving the Kirtland US Air Force Base and other U.S. military customers. The facility is due to open in early 2023
"This expansion will enhance our ability to support our customers' missions as their national security space needs evolve," said Troy Brashear, vp of national security systems at Northrop Grumman. "In addition to creating new aerospace jobs, we look forward to working alongside our local customers as Albuquerque flourishes as a hub for advanced space technology initiatives to protect our country."
The company is the first organization to announce a stand-alone building at the new mixed-use site, which is located just north of an Air Force Research Laboratory (AFRL) facility. Construction is expected to be completed within a year, by February 2023.
Net zero
The company also recently announced that it was committing to Net Zero greenhouse gas (GHG) emissions in its operations by 2035.
Outlined in its 2021 Sustainability Report, the commitment was described as the next step in the company's journey to decarbonize. It said that for more than a decade it had taken meaningful action to reduce the carbon footprint of its operations by 30 percent.
"Climate change presents a real threat. Increased natural disasters, population displacements and conflicts over essential resources like food and water impacts us all," said Kathy Warden, chair, chief executive officer and president, Northrop Grumman. "Northrop Grumman's Net Zero goal is one of the ways we're taking proactive steps to have a lasting impact in bringing forth a safer, more sustainable world."
See also: Hawkeye 360 wins $15.5m AFRL contract for space-based RF analytics
AFRL selects academic winners for Space University Research Initiative

Northrop Grumman to design SIGINT sensor prototype for U.S. Air Force

Northrop Grumman plans Blackjack positioning, navigation and timing LEO payload

Northrop Grumman finalises contract for NASA Gateway habitation module