No lag for ESA's ColKa connecting astronauts direct to Europe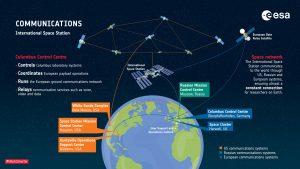 An upgrade to the comms system is now delivering broadband internet at speeds equivalent to those on Earth, says ESA. The satellite in question picks up signals from the Station as it loops around the Earth every 90 minutes and relays them straight back to its European base station.
Specifically, it provides speeds of up to 50 Mbit/s for downlink and up to 2 Mbit/s for uplink. The communications device which enables it – nicknamed 'ColKa' for 'Columbus laboratory Ka-band terminal' – was installed during a spacewalk a year ago, in January 2021.
The significance of the upgrade is that that experiments on the ISS can be monitored from Europe in close to real time. Until now, for example, data from investigations into the effects of radiation on seeds and biomining research had to be stored on hard drives and returned to Earth later.
ColKa
ColKa was designed and built by British and Italian companies, using products from Belgium, Canada, France, Germany and Norway, some of which have been qualified under ESA's Telecommunications and Integrated Applications programme of Advanced Research in Telecommunications Systems (ARTES).
ESA and Airbus signed a two-year contract on 29 November 2021 to deliver data from the Station to Harwell in the UK and ESA's Columbus Control Centre in Oberpfaffenhofen, Germany.
ESPRIT
The ESA notes the lessons to be learned for the ESPRIT telecommunications and refuelling module
it is designing for NASA's lunar Gateway:
"The knowledge gained from designing, building and running ColKa will be instrumental for ESA's telecommunications package under the ESPRIT telecommunications and refuelling module that is being designed for the lunar Gateway – an outpost over 1000 times farther from Earth than the International Space Station that will provide vital support for a sustainable, long-term human return to the lunar surface."
The infographic above shows the systems used to communicate with the International Space Station and how data is relayed to Europe.
Successful Virgin Orbit horizontal launch cheers Spaceport Cornwall

Astroscale signs up for Gas Stations in Space

Hawkeye 360 wins $15.5m AFRL contract for space-based RF analytics

Prestwick Spaceport plans for position in European space race