Nasa preps next-gen spacesuits for Extravehicular Activity Services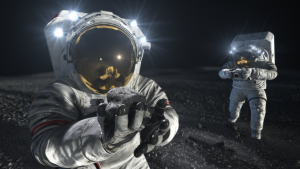 The spacesuits will have to support spacewalking in low-Earth orbit outside the ISS and also on the Moon as part of future Artemis missions.
How much do the suits cost? Nasa's Extravehicular Activity Services (xEVAS) contracts have a potential total value of $3.5 billion across the full life of the programme.
Under the terms of the contract, the companies will compete for task orders for missions taking place up to 2034. The first task orders to be competed under the contract will include the development and services for the first demonstration outside the space station in low-Earth orbit and for the Artemis III lunar landing.
"With these awards, NASA and our partners will develop advanced, reliable spacesuits that allow humans to explore the cosmos unlike ever before," said Vanessa Wyche, director of NASA's Johnson Space Center in Houston.

"By partnering with industry, we are efficiently advancing the necessary technology to keep Americans on a path of successful discovery on the International Space Station and as we set our sights on exploring the lunar surface."
Axiom Space (based in Houston) and Collins (Cedar Rapids) will be responsible for the design, development, qualification, certification, and production of spacesuits and associated support equipment.
The design includes life support, pressure garments, and avionics, as well as systems training and real-time operations support.
"Astronauts returning to the moon and venturing beyond need a spacesuit that's as modern as their new missions," said Dan Burbank, senior technical fellow at Collins Aerospace and former NASA astronaut. "The next-gen spacesuit is lighter, more modular, a better fit and easily adaptable, which means that wherever the journey into space may lead, our crew will be ready."
You can read more about Nasa's plans and requirements for spacesuits at nasa.gov/suitup
Pictured above is an artist's illustration of two suited crew members possibly working on the lunar surface
Image: Nasa
Spectrolab's solar cells to power NASA's Roman Space Telescope

Axiom Space preps for first private astronaut mission

NASA begins assembly of its Jupiter bound Europa Clipper

Nasa opens Phase 2 of $5m Lunar Power Prize Competition