NASA picks new NASA chief scientist and senior climate advisor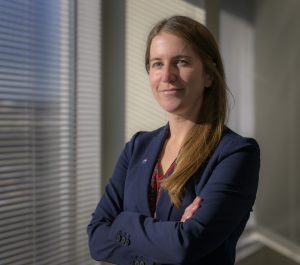 In her role as chief scientist, Calvin will advise on the agency's science programmes and science-related strategic planning and investments.
As senior climate advisor, NASA explains she will provide recommendations for the agency's climate-related science, technology, and infrastructure programmes.
"Climate change is one of the biggest challenges facing our nation – and our planet," she highlighted. "NASA is a world leader in climate and Earth science. I'm excited to be a part of the team that is helping to advance this important science mission."
Experience
With a doctorate in Management, Science, and Engineering from Stanford University and a bachelor of science in Computer Science and Mathematics from the University of Maryland, she has co-authored over 100 publications.
Previously, since 2008, Calvin has been an Earth scientist at the Pacific Northwest National Laboratory's JGCRI in Maryland. She worked with the Laboratory's Global Change Analysis Model. This is described as a system for analysing the relationships between human and Earth systems in the context of global climate change.
Additionally, she has served on a U.S. National Academy of Sciences research committee on models of the world, and also worked on the U.S. Department of Energy's Energy Exascale Earth System Model, a system for analysing the past, present, and future state of the Earth system.
Biden
Calvin succeeds Jim Green, who retired as NASA chief scientist after more than 40 years of service at NASA, and also Gavin Schmidt, who has served as senior climate advisor, in an acting capacity, since the position was created in February 2021. Schmidt will maintain his role as director of NASA's Goddard Institute for Space Studies in New York.
NASA established the senior climate advisor position to address the Biden-Harris Administration's climate science objectives for the agency, it said.
"I'm thrilled to welcome Kate to the NASA family, where she will bring her expertise in integrated human-Earth system modeling to help ensure the Biden Administration has the data needed to achieve the critical goal of protecting our planet," said NASA Administrator Bill Nelson. "I also want to thank Jim and Gavin for their invaluable leadership to NASA and the world as chief scientist and senior climate advisor."
In February 2021, NASA joined the National Climate Task Force that established by U.S. President Biden, the goal of which is to "encourage a government wide approach to address climate change".
Since then, NASA has issued a climate action plan aimed at continuing critical Earth science and climate research and averting mission impacts due to climate. With two dozen satellites and instruments observing key climate indicators, NASA is the premier agency in observing and understanding changes to Earth, it states.
James Webb Space Telescope sunshield is tensioned and secured

NASA funds three approaches to a commercial LEO space station

NASA selects Aerojet Rocketdyne for Orion spacecraft engine propulsion

NASA selects landing site for Artemis lunar robotic rover, Viper