NASA funds three approaches to a commercial LEO space station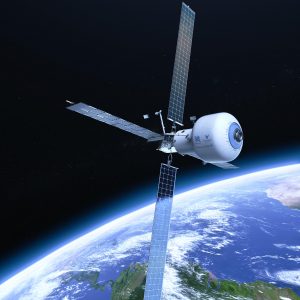 It has signed agreements with three U.S. companies "to enable a robust, American-led commercial economy in low-Earth orbit".
The leading companies receiving the awards are Blue Origin of Kent, Washington ($130 million), Nanoracks LLC, of Houston ($160 million) and Northrop Grumman Systems Corporation of Dulles, Virginia ($125.6 million).
"Building on our successful initiatives to partner with private industry to deliver cargo, and now our NASA astronauts, to the International Space Station, NASA is once again leading the way to commercialize space activities," said NASA Administrator Bill Nelson.

"With commercial companies now providing transportation to low-Earth orbit in place, we are partnering with U.S. companies to develop the space destinations where people can visit, live, and work, enabling NASA to continue forging a path in space for the benefit of humanity while fostering commercial activity in space."
Behind these lead companies are other major players from the space industry.
Starlab
Pictured above is Starlab, from Nanoracks, Voyager Space, and Lockheed Martin. This is a continuously crewed, free-flying, commercial space station.
In the words of NASA, it would be "dedicated to conducting advanced research, fostering commercial industrial activity, and ensuring continued U.S. presence and leadership in low-Earth Orbit".
Orbital Reef
Pictured below is the Orbital Reef baseline configuration, which is backed by Jeff Bezos' Blue Origin and Sierra Space. it shows the Core Module, Energy Mast, LIFE, Node, and Science Module.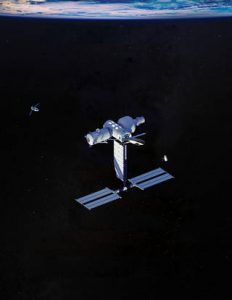 Other partners include Boeing, Redwire Space, Genesis Engineering, and Arizona State University.
Northrop Grumman
Finally, pictured below is Northrop Grumman's "free flyer commercial destination". In the words of NASA its "design leverages flight proven elements to provide the base module for extended capabilities including science, tourism, industrial experimentation, and building of infrastructure beyond initial design."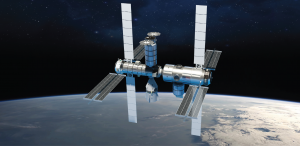 It builds on Northrop Grumman's experience with the Cygnus spacecraft, which provides cargo deliveries to the International Space Station.
Space station transition
The awards are the first in what NASA says will be a two-phase approach to transition of activity from the International Space Station to commercial destinations.
During this, the first phase, private industry and NASA design commercial low-Earth orbit destination capabilities suitable for potential government and private sector needs. The first phase is expected to continue until 2025.
For the second phase, the agency says it intends to purchase services from these providers for NASA crew to use when available. It writes:
"This strategy will provide services the government needs at a lower cost, enabling NASA to focus on its Artemis missions to the Moon and on to Mars while continuing to use low-Earth orbit as a training and proving ground."
Lunar Gateway
Away from the commercial arena, NASA is already planning the replacement of the existing multi-national International Space Station.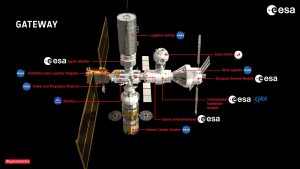 It will be the Lunar Gateway (right), with ESA, the Canadian Space Agency and the Japan Aerospace Exploration Agency involved. Russia and China, however, have declined to come on board and are pursuing an alternative permanent base in space.
Images: Nanoracks/Lockheed Martin/Voyager Space, Orbital Reef, Northrop Grumman
NASA selects Aerojet Rocketdyne for Orion spacecraft engine propulsion

NASA selects landing site for Artemis lunar robotic rover, Viper

James Webb Space Telescope passes final tests before shipment

Leonardo boosts #T-TeC 2021 space tech competition for students