NASA begins assembly of its Jupiter bound Europa Clipper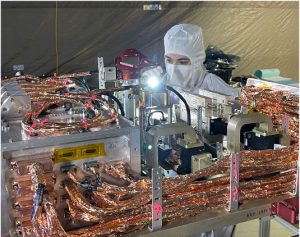 Engineering components and science instruments, from both the US and Europe, are expected to be assembled before the year's end.
The first science instrument to be completed, an ultraviolet spectrograph – one of a suite of nine – was delivered to JPL last week by a team at Southwest Research Institute in San Antonio, Texas. Weighing 19.6kg, with a spectral range of 55-210 nanometers, it will separate the wavelengths of ultraviolet light to determine the composition of the moon's surface and gases in the atmosphere, says the agency.
The main body of the spacecraft is a 3-meter-tall propulsion module, designed and constructed by Johns Hopkins Applied Physics Laboratory. This module – fitted with electronics, radios, cabling, and the propulsion subsystem – is due to ship to JPL later this spring. The Europa Clipper's 3-meter-wide high-gain antenna also will also be arriving "soon".
In terms of its dimensions, Nasa describes the final craft being as large as an SUV, with its solar arrays the length of a basketball court.
"We're moving into the phase where we see the pieces all come together as a flight system," said Europa Clipper Project Manager Jan Chodas of JPL. "It will be very exciting to see the hardware, the flight software, and the instruments get integrated and tested. To me, it's the next level of discovery. We'll learn how the system we designed will actually perform."
According to Nasa, Europa Clipper will orbit Jupiter and conduct multiple close flybys of Europa to gather data on the moon's atmosphere, surface, and interior. Its sophisticated payload will investigate, for example, the depth and salinity of the ocean, the thickness of the ice crust and the characteristics of plumes that may be venting subsurface water into space.
It is expected to launch in 2024 and more information about the Europa mission can be found here.
Pictured above, an engineer previously inspects the radio frequency (RF) panel of the Europa Clipper in a cleanroom at the Johns Hopkins Applied Physics Laboratory in Laurel, Maryland.
Image: Johns Hopkins APL
See also: Nasa to invest another $200m to help new technologies to market
Nasa opens Phase 2 of $5m Lunar Power Prize Competition

Nasa to invest another $200m to help new technologies to market

Caltech selects Laurie Leshin to be Director of JPL

Israel signs on for Nasa's Artemis Accords