MoD funds Sentinel Photonics for sensor detecting laser threats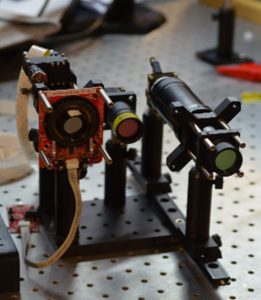 The original technology was created by the Dstl (Defence Science and Technology Laboratory) for military use – to detect and assess the threat levels of lasers deployed against personnel, aircraft and vehicles.
This technology has now been licensed to Sentinel, by Ploughshare (a company itself owned by the MoD), to explore opportunities for its civilian use. For example, as a method of detection and threat level assessment when lasers are shone at commercial aircraft, air ambulances, or at sporting events.
The government says the technology could potentially be installed in public areas to detect such use of lasers, thus acting as a deterrent against what is illegal use.
The pot of money from which the grant comes is the "Knowledge Assets Grant Fund". This is awarded via the Department for Business, Energy & Industrial Strategy (BEIS) and offers grants of up to £250K to support the commercialisation or expanded use of public sector knowledge assets.
Basically, the idea is to realise the potential of the government-owned IP and technology for the wider benefit of the UK.
Sentinel Photonics
"We are grateful for the support of Ploughshare, Dstl and BEIS in securing these funds which will enable us to take a significant step in unlocking the potential for our technology to detect and protect against laser threats to civilians," said the CEO of Sentinel Photonics, Chris Burgess.

"This grant will give us space and time to hold conversations with relevant organisations while continuing to develop and refine our technology."
The company is based in Porton Science Park at Porton Down in Wiltshire.
iLWER
Sentinel's main product is the iLWER (Imaging-based Laser Warning and Event Recorder), which uses image processing algorithms to detect and identify laser threats. According to the company, the iLWER can identify the presence of lasers and also provide information to aid identification.
When an unknown laser is detected, laser characteristics are collected, which can contribute to threat libraries.
Powerbox launch PSU for medical laser applications

RF specialist expands teaching and test in South Yorkshire

MoD contracts Plextek, RFEL and 4Sight to deliver adaptive FPGA-based SoC imaging