Lockheed Martin, Northrop Grumman, York Space win contracts for space network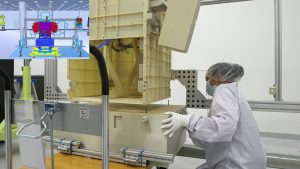 Each will produce 42 satellites by 2024, operating in two near-polar low Earth orbital planes (21 space vehicles, or satellites, for each orbital plane).
Lockheed Martin's contract is valued at $700 million, Northrop Grumman's $692 million and York Space's $382 million.
T1TL
Dubbed the Tranche 1 Transport Layer (T1TL), the network is planned to provide low-latency high-volume data transport for military users, whether on land sea or air – the backbone for "Joint All Domain Command and Control" JADC2) – supporting "sensor-to-shooter targeting" and general situational awareness.
Specifically, each of the units produced will be equipped with Optical Communications Terminals, enabling a minimum of four simultaneous optical communications links, Link 16 mission communications, Ka-band RF mission communications and a BMC3 module enabling on-orbit data processing and storage.
Each of the Transport Layer satellites will be software-defined, for application configurability, using Lockheed Martin's SmartSat software. Northrop Grumman says its work will build on its previous MILSATCOM programmes.
Transport Layer
The SDA is building the Transport Layer in tranches, as the name suggests. Twenty satellites, to start the constellation, were ordered in 2020 from Lockheed Martin and York Space.
"SDA is changing the landscape for acquisition of national defense space capabilities by capitalizing on a unique business model that harnesses commercial development to achieve a proliferated low Earth orbit architecture that enhances resilience and lowers latency to process and move data from sensor to shooter," said SDA Director Derek Tournear. "The per satellite price, volume, and speed of delivery represented by the T1TL agreements signed with our partners demonstrate industry's progress toward building a strong marketplace."
Image: Lockheed Martin – An employee is working on a Transport Layer model with the help of digital transformation tools
Space Scotland seeking Space Sustainability and Net Zero Roadmap

Satellite Vu trusts SpaceX for thermal imaging satellite launch

Apprentices earn shortlist place in UK government's Nanosat Design Competition

KSAT selected to provide Ground network support for the LunIR mission