James Webb Space Telescope sunshield is tensioned and secured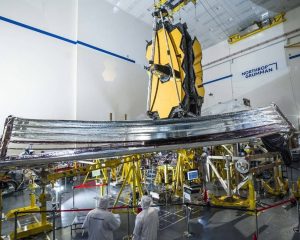 Specifically, at 11:59 a.m. EST Tuesday, the sunshield was fully tensioned and secured into position, which marked the completion of its deployment.
The unfolding and tensioning of the shield involved 139 of Webb's 178 release mechanisms, 70 hinge assemblies, eight deployment motors, roughly 400 pulleys, and 90 individual cables totaling roughly one quarter of a mile in length, according to NASA.
It is the replacement for the current Hubble Telescope, operating from space, and is a joint NASA, European Space Agency and Canada Space Agency initiative.
Shields up! @NASAWebb has completed the tensioning of its tennis-court-size sunshield.

This five-layered shade will protect the telescope from the heat of the Sun, Earth and Moon, helping it #UnfoldTheUniverse in infrared light. Details & next steps: https://t.co/m9eFc0ysib pic.twitter.com/qF1UQV3cIY

— NASA (@NASA) January 4, 2022
Folded
The sunshield was folded to fit inside the payload area of an Arianespace Ariane 5 rocket's nose cone prior to launch. Extended to full size, it is described as the size of a tennis court
The Webb team began remotely deploying the sunshield on 28 December 2021, three days after launch on Christmas day. It is pictured above during its final deployment test on Earth in December 2020 at Northrop Grumman in Redondo Beach, California.
The five-layer, tennis court-sized sunshield is essential for protecting the telescope from heat, allowing Webb's instruments to cool down to the extremely low temperatures necessary to carry out its science goals.
Deployment
"This is the first time anyone has ever attempted to put a telescope this large into space," said Thomas Zurbuchen, associate administrator for NASA's Science Mission Directorate at the agency's headquarters in Washington. "Webb required not only careful assembly but also careful deployments. The success of its most challenging deployment – the sunshield – is an incredible testament to the human ingenuity and engineering skill that will enable Webb to accomplish its science goals."
The deployment process began with two pallet structures – forward and aft – unfolded to bring the observatory to its full 70-foot length.
Later, after the Deployable Tower Assembly deployed to separate the telescope and instruments from the sunshield and the main body of the spacecraft, the aft momentum flap and membrane covers were released and deployed. Then, the mid-booms deployed, expanding perpendicular to the pallet structures and allowing the sunshield to extend to its full width of 47 feet. Finally, the sunshield was fully tensioned and secured.
"Unfolding Webb's sunshield in space is an incredible milestone, crucial to the success of the mission," said Gregory L. Robinson, Webb's program director at NASA Headquarters. "Thousands of parts had to work with precision for this marvel of engineering to fully unfurl. The team has accomplished an audacious feat with the complexity of this deployment – one of the boldest undertakings yet for Webb."
See also: James Webb Space Telescope passes final tests before shipment
Airbus to build Ariel exoplanet satellite

NASA funds three approaches to a commercial LEO space station

Elektra Awards 2021 – The Winners

DARPA entangles BAE Systems in quantum technology for military antennas