James Webb Space Telescope fully focused in space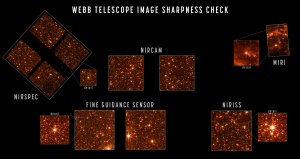 An international partnership between NASA, ESA and CSA, the system has now passed a full review and is deemed capable of capturing well-focused images with each of its four onboard science instruments.
Apparently, the optical performance of the telescope is better than the engineering team's most optimistic predictions, says ESA.
"Webb's mirrors are now directing fully focused light collected from space down into each instrument, and each instrument is successfully capturing images with the light being delivered to them. The image quality delivered to all instruments is 'diffraction-limited', meaning that the fineness of detail that can be seen is as good as physically possible given the size of the telescope. From this point forward the only changes to the mirrors will be very small, periodic adjustments to the primary mirror segments".
The alignment of the telescope across all of Webb's instruments is pictured above, to capture the observatory's full field of view.
Webb's three imaging instruments are NIRCam (images shown here at a wavelength of 2 microns), NIRISS (image shown at 1.5 microns), and MIRI (shown at 7.7 microns, a longer wavelength revealing emission from interstellar clouds as well as starlight). There's also a Fine Guidance Sensor that tracks guide stars to point the observatory accurately and precisely
The telescope should soon be ready to begin operations. ESA writes:
"Upon completing the seventh and final stage of telescope alignment, the team held a set of key decision meetings and unanimously agreed that Webb is ready to move forward into its next and final series of preparations, known as science instrument commissioning. This process of setting up and testing the instruments will take about two months before scientific operations begin in the summer."
Having been launched on Christmas Day 2021, it is the replacement for the current Hubble Telescope, designed to operate from space.
You can read more on the NASA website.
See also: James Webb Space Telescope sunshield is tensioned and secured
ESA's Space Environment Report deems space usage unsustainable

NaviMoon satnav receiver faces integration testing for farside of the Moon

ESA formally ends lunar cooperation with Russia

ESA suspends ExoMars mission due to Ukraine war