Isotropic rebrands as All.Space as it moves to 5th-gen terminal production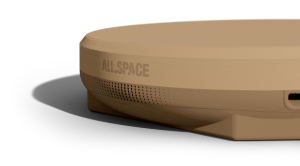 The Reading-based company is a developer of broadband terminal technologies for satellite communications and it is moving into initial production of its multi-link terminals for release at the end of 2022 – shipping to a "significant backlog" of commercial and NATO defence customers, it states.
Using a software-defined service platform, its flat panel antennas will be capable of creating a mesh network by simultaneously connecting to multiple different satellites in different orbits. There is also cellular support, with 3G, 4G and 5G cellular multi-network plug-and-play options.
All.Space recently concluded live field tests with the US and UK governments and several satellite operators demonstrating multiple, simultaneous connections across LEO, MEO and GEO orbits.
"With the growing capabilities of the next generation of satellite NGSO and HTS ecosystems, and the pressing need to connect satellites in different orbits, we have created the next chapter for the all-important ground segment," said John Finney, Founder and CEO of the company.
All.Space
Why change the name? According to the company:
"To date, the business has been solely focussed on proving its concept and creating a product capable of serving key satellite users across civil and defense sectors. With this stage complete, it is now focussing on the commercial rollout and bringing the concept to reality. R&D will already be at the heart of ALL.SPACE, but with manufacturing to complete and customers to serve, the business needs to pivot to a new way of working, and this change of name is the next step along the way."
As examples of applications for the terminals, All.Space cites that pilots will be able to connect to satellite for navigation while passengers also stream movies on high-speed broadband, or that governments will be able to safeguard civil and defence connectivity by accessing all available satellite bandwidth.
See also: Isotropic gears up for multi-link antenna product launch
Lockheed Martin, Maxar Space win NOAA weather satellite contracts

HawkEye 360 opens RF-sensing satellite manufacturing facility

Satellite Vu commissions SSTL for satellite clone to double climate data collection

Astraius propulsion deals boost Scottish space launches