Isotropic gears up for multi-link antenna product launch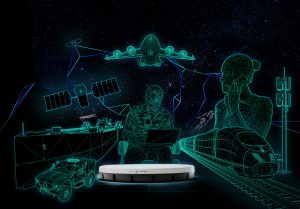 The Reading-based company has announced its mobile Ka-Band GM2000 Terminal Range for military forces, and partnerships with Teledyne and SpaceBridge to extend the options for supported modems (to integrate Teledyne's AXIOM-X modems to enable a Paradise waveform option for military-grade security, and Space Bridge's ASAT modems, enabling dynamic waveform selection and switching between MF-TDMA, ASCPC, or SCPC, to optimise satellite resource usage).
It's also finally completed all stages of its planned field trials, involving both military and civil tests of multi-link connectivity, put it on course for product launch later this year.
The company is hoping its multi-beam antenna will "unlock a new age of multi-orbit connectivity".
Field trials
Last week it confirmed that it had completed all tests for its multi-link terminal to connect to satellites in LEO, MEO and GEO orbits, simultaneously.
The tests apparently ensured "continuous, full aperture performance across all links to multiple orbits", enabling full multiplication and aggregation of data connectivity.
Previous tests phases were carried out with the U.S. forces as part of the U.S. Air Force's Defense Experimentation Using Commercial Space Internet (DEUCSI) programme. This was to demonstrated abilities to maintain connectivity under challenging conditions.
Separate tests with Telesat and SES also tested the terminals' effectiveness across all satellite orbits with a range of civil and commercial applications.
The completion of trials means the product is on schedule for launch later this year.
"With thousands of satellite constellations launching in the coming years, our technology is critical to unlocking the full benefits of the enhanced broadband connectivity," said Isotropic Systems CEO and founder, John Finney.

"We have completed various rigorous tests on the defence front by demonstrating our multi-beam and orbit capabilities with the U.S. Army and have also demonstrated unique multi-orbit connectivity alongside Telesat, SES and others."
Military
The Ka-Band GM2000 Terminal Range has also been announced, designed for NATO forces.
"Total mission assurance is achieved by converging multiple domains across multiple orbits with 'always on' concurrent connections provided by our GM2000 range, enabling path resiliency and superior uptime," said John Finney, CEO & Founder of Isotropic Systems.

"The flexibility to go anywhere, connect to all space, at all times, is paramount to the strategic advantage required by NATO and its allies. Isotropic's multi-link technology is now field-proven. For the first time, it is possible to run multiple concurrent links from a single solid-state device and converge operational intelligence platforms with multi-orbit communication systems."
You can read more about the GM2000 range here.
AXIOM-X modem
As mentioned, Isotropic will also be working with Teledyne to Deliver a terminal for fully secure communications for mission-critical data.
The partnership will provide a fully integrated Teledyne Paradise waveform option "enabling secure and ruggedized comms-on-the-move capability". Specifically, launch products will offer an AXIOM-X modem to support secure, high-speed SCPC point-to-point and point-to-multipoint networks for guaranteed bandwidth across GEO and NGSO constellations.
The Axiom modem provides interoperability of traffic and M&C with a significant installed base of Teledyne Evolution and Q-series modems, said the companies.
"The Isotropic System's multi-link capability offers the highest mission assurance levels. This partnership with Teledyne adds another layer of resiliency and security to our products," said Finney. "We look forward to delivering this game-changing, fully integrated solution to our NATO defence customers."
SpaceBridge modem
For SpaceBridge, the CEO David Gelerman commented:
"We welcome this cooperation, as SpaceBridge system capabilities will enhance the Isotropic's performance," said Gelerman.

"They were developed to provide exactly the solution for the demand of various On-The-Move, mission-critical, BLoS applications. Mission-critical, multi-link communications require various profiles in the same terminal. WaveSwitch mechanism elasticity, with its associated set of triggers, and high-efficiency high-gain multi-beam Isotropic antenna provide large savings on precious satellite resources without sacrificing the Quality-of-Experience".
Multi-link launch
The company's multi-link terminals are set to launch later this year. As examples of applications, Isotropic cites that pilots will be able to connect to satellite for navigation while passengers also stream movies on high-speed broadband, or that governments will be able to safeguard civil and defence connectivity by accessing all available satellite bandwidth.
You can read more on the Isotropic website.
See also: Seraphim backs Isotropic to unblock satellite comms bottleneck
QuadSAT drone performs antenna tests on 15m antenna

Bill Gates funding to boost Kymeta's antenna manufacturing

Lockheed Martin, Northrop Grumman, York Space win contracts for space network

Space Scotland seeking Space Sustainability and Net Zero Roadmap