Inmarsat trials Orchestra maritime mesh for ship-to-ship connectivity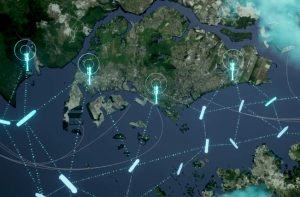 The initiative comes from Inmarsat for its Orchestra network, which brings together its geosynchronous (GEO) satellites with low earth orbit satellites (LEO) and terrestrial 5G into an integrated system.
The idea is that ships can help each other avoid 'hotspot congestion' at sea, for example around major ports. As the ship sailed away from the port it would then seamlessly reconnect with the satellite-based comms.
The first phases of testing have been completed in Singapore using proprietary technologies across various combinations of frequency bands and terminal equipment onboard vessels, the company reports.
Singapore
Why Singapore? The tests took place between land-based signal towers and ships offshore at one of the world's busiest container ports.
Also, it is one of the most demanding environments because of equatorial weather conditions involving heavy rain and high humidity.
"Through Inmarsat's innovative use of spectrum and technology, combined with state of the art terrestrial mesh networks including using vessels as stepping-stones, Inmarsat will deliver enhanced and customised connectivity to our customers," said Peter Hadinger, Chief Technology Officer at Inmarsat.

"This will enable Inmarsat to improve services in the future by anticipating and managing demand from customers in hotspots."
Maritime mesh
The stepping-stone connections in the Orchestra maritime mesh are expected to reach at least 10 kilometres (6.2 miles) and 100 megabits per second per link.
The company highlights that the network could enable, for example, the download of a HD movie in 40 seconds. And that five shore stations near Singapore would deliver in excess of 10 gigabits per second across the area.
It is planned to extend the network to 30km (18.6 miles) and beyond.
The maritime hotspots were identified from existing and projected future use of Inmarsat's Fleet Xpress services.
Orchestra
Describing it as a "communications network of the future", Orchestra brings together Inmarsat's geosynchronous (GEO) satellites with low earth orbit satellites (LEO) and terrestrial 5G into an integrated system.
As part of its development, the company is planning to add 150 to 170 satellites to its existing fleet, investing $100 million over the coming five years, it has said.
See also: US satellite company Viasat buys Inmarsat for broadband and IoT
Orbex unveils prototype of 3D-printed Prime space rocket for Space Hub Sutherland

Scotland looks to Astra for 2023 satellite launches

Spaceport Cornwall to host UK's first satellite launch this summer

Selection panel for EW BrightSparks decides Class of 2022