Hawkeye 360 wins $15.5m AFRL contract for space-based RF analytics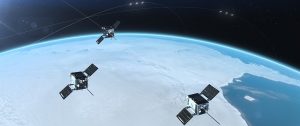 Following the agreement with the Department of Defense, HawkEye 360 will provide radio frequency analytics research, development, and experiments to help the U.S. government test its hybrid space ISR (Intelligence, Surveillance and Reconnaissance) architecture.
Based in Herndon, Virginia, HawkEye 360 operates a constellation of satellites that detects, characterises and geolocates radio frequency signals from a range of emitters, whether used for communication, navigation or security.
By processing such RF data the company says it delivers "high-impact actionable insights" for environmental and national security issues.
"We are pleased to have the opportunity to explore at greater scale and depth, using real-world scenarios, how a leading radio frequency data and analytics provider such as HawkEye 360 can supplement and strengthen our hybrid satellite ISR architecture, and to develop new tactics, techniques and procedures to enable further utility assessments," said AFRL Technical Program Manager Charlene Jacka.
Hawkeye 360 Cluster 3
A launch in June 2021 of three further satellites, via a SpaceX Falcon 9 rocket, brought Hawkeye 360's cluster total to nine.
The Cluster 3 satellites included redundant systems for longevity, increased computing for on-board signal processing, a dedicated GNSS antenna to monitor GPS interference, and enhancements to boost geolocation accuracy, RF frequency coverage and collection capacity.
Leidos analytics
Last week, HawkEye 360 announced it had added Leidos as an investor and strategic partner in a second close of its Series D funding round.
The $5 million investment from Leidos brought the total value of Series D funding to $150 million, said the company.
"We're confident this investment will strengthen our robust capabilities in the National Security Space arena. This will also create innovative pathways to deliver bold solutions to our customers as they work to safeguard U.S. and allied interests."
As a strategic partner, Leidos will use its experience in developing advanced analytics to support the processing of HawkEye 360's RF geospatial intelligence data.
See also: UK's Satellite VU chosen for Amazon's Space Accelerator programme
Prestwick Spaceport plans for position in European space race

Government budgets for space exploration and militarisation hit record levels

Rocket Lab to buy space solar power specialist SolAero

New Symphonie to study European multi-orbit satellite system