HawkEye 360 opens RF-sensing satellite manufacturing facility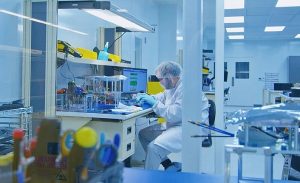 Located in Herndon, Virginia, the 19,000 square-foot site supports data processing, software development, and the manufacture of its commercial RF-sensing satellites for gathering geospatial intelligence.
Housing up to 70 employees, it will host constellation operations, data processing, software development, payload development, and satellite assembly. It includes a customised clean room (pictured) and electronics lab for advanced RF technology and making its smallsats.
The facility, the company said, enables it to have "end-to-end responsibility" for its design and satellite manufacturing.
"This gives us more flexibility to adapt and innovate our commercial RF GEOINT technology," said HawkEye 360 CEO John Serafini. "Our customers will benefit through our discoveries, as we place more sophisticated RF-sensing satellites into orbit and build algorithms that extract value from this important data. We are proud to be investing in the local economy with these high-paying, mission focused jobs that make a global impact."
HawkEye 360 says it anticipates launching a sixth cluster of three satellites before the end of 2022, which will bring its total constellation to 18 satellites, supporting defense, humanitarian, environmental and commercial applications.
See also: Hawkeye 360 wins $15.5m AFRL contract for space-based RF analytics
Satellite Vu commissions SSTL for satellite clone to double climate data collection

Astraius propulsion deals boost Scottish space launches

RHEA Group's research satellite completes payload for first UK launch

SaxaVord Spaceport completes test exercise ahead of launches