Government budgets for space exploration and militarisation hit record levels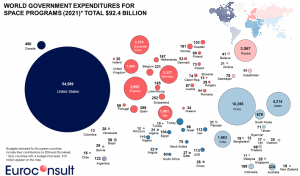 This is according to Euroconsult, a consultancy specialising in the space sector, which also expects such spending to reach $1 trillion over the next decade. The two major main drivers identified are ambitious space exploration programmes, by leading space countries, and geopolitical rivalries that are driving the militarisation of space.
The numbers are in its "Government Space Programs" report, for 2021, which examines the impact of government space budgets in civilian and defence applications.
Despite Covid
Despite the effect of Covid-19, the space sector has received record government investment of more than $92 billion, which is an 8% increase compared to 2020.
Civilian space budgets, totalling $53 billion in 2021, continue to receive more funding than defence space programs, at 58% of total spending. The share going to defense, $39 billion in 2021, is increasing however, notes Euroconsult. See below: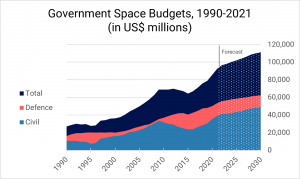 "Geopolitical tensions, increasing rivalry between leading space powers, and the value of space as the ultimate high ground drive the militarization of space trend, with leaders increasing their investments in defense space assets and technologies."
The report identifies the top twelve governments for space spend as follows (in millions), with France notably leading the way in Europe, almost tripling the UK investment:
United States – $54,589m
China – $10,286m
Japan – $4,214m
France – $3,952m
Russia – $3,567m
European Union – $2,574m
Germany – $2,377m
India – $1,963m
Italy – $1,481m
United Kingdom – $1,464m
Canada – $490m
Spain – $399m
Access to the report can be found here.
See also: European Commission conducts New Symphonie for broadband constellation
Rocket Lab to buy space solar power specialist SolAero

New Symphonie to study European multi-orbit satellite system

SSTL to lead UK Space Agency LEOPARD project for removing debris

Orbex begins construction of satellite Launch Platform in North Scotland