Good Fixture Selection Is The Key To Success Machining
The high flexibility of CNC four-axis machining center or five-axis linkage cnc machining center requires that its machining fixtures be compact and simpler than ordinary machine tools. Minimize the auxiliary time as much as possible. The operation control is convenient, labor-saving and safe, and it must ensure sufficient rigidity. Be flexible. When choosing the right fixture, pay attention to the accuracy of the processed parts, batch size, processing cycle, and processing cost.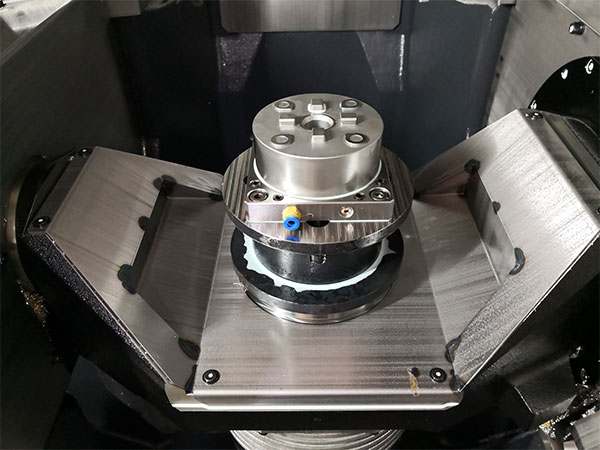 In order to choose the fixture properly, we must first have a deep understanding of the machining characteristics of the CNC machining center. CNC machining tools for CNC milling are called CNC milling machines or CNC machining centers. A lathe that performs CNC turning is called a CNC turning center. NC machining G code can be manually programmed, but usually the machining workshop uses CAM software to automatically read CAD files and generate G code programs to control the CNC machine tools. CNC computer gong machining is the driving part of the CNC machine tool actuator, including the spindle drive unit, feed unit, spindle motor and feed motor. It realizes the spindle and feed drive through electric or electro-hydraulic servo system under the control of numerical control device. When several feeds are linked, processing of positioning, straight line, plane curve and space curve can be completed. Comprehensive consideration of various factors, the choice of economical and reasonable fixtures can achieve twice the result with half the effort, in order to maximize the role of CNC machining centers.
fPTJ Shop is Cnc Machining Expert has 12 years experience on custom non-standard parts. As a cnc machining factory We Material research & Design and manufacture products,Material types included aluminium,stainless steel,brass,copper,titanium,magnesium and plastic etc.,. our factory located in Dongguan, occupies an area Over 5,000 square meters.
Cnc Machining Online Quote Serviced aircraft&aerospace, automotive, LED lighting,bike,medical,electronic,mechanical,Oil&Energy and Military industries. Most of Our Customer business who base on Canada, Israel, Japan, Europe and USA, the business grow up year by year. 
We are sincerely looking forward to your cooperation, warmly welcome you join us to share the market, and expand our business together!