FTC blocks Lockheed Martin's $4.4bn acquisition of Aerojet Rocketdyne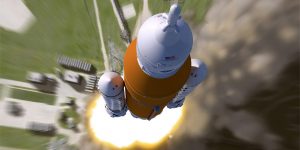 Lockheed Martin announced its plans – which were subject to regulatory approval – last year, in January 2021. The FTC, however, has now decided that Aerojet Rocketdyne – which it describes as the last independent U.S. supplier of missile propulsion systems – shouldn't be subsumed within the huge defence contractor.
It says, if the deal is allowed to proceed, that Lockheed would use its control of Aerojet to "harm rival defense contractors and further consolidate multiple markets critical to national security and defense".
"The FTC is suing to block Lockheed Martin, the world's largest defense contractor, from eliminating Aerojet, our nation's last independent supplier of key missile inputs," said FTC Bureau of Competition Director Holly Vedova. "Lockheed is one of a few missile middlemen the U.S. military relies on to supply vital weapons that keep our country safe."

"If consummated, this deal would give Lockheed the ability to cut off other defense contractors from the critical components they need to build competing missiles. Without competitive pressure, Lockheed can jack up the price the U.S. government has to pay, while delivering lower quality and less innovation. We cannot afford to allow further concentration in markets critical to our national security and defense."
It highlighted that Aerojet has only one competitor – Northrop Grumman – to provide propulsion inputs for missile systems and hypersonic cruise missiles to defence prime contractors. Also, Aerojet Rocketdyne is "the only proven U.S. supplier of divert-and-attitude control systems that propel missile defense kill vehicles".
What happens next is the FTC will officially file a complaint in the U.S. District Court for the District of Columbia seeking a Preliminary Injunction to stop the deal pending an administrative trial, which is now scheduled to begin on 16 June 2022.
The decision is the agency's first litigated defence merger challenge in decades, it notes.
Lockheed Martin has yet to comment on the FTC decision.
"Acquiring Aerojet Rocketdyne will preserve and strengthen an essential component of the domestic defense industrial base and reduce costs for our customers and the American taxpayer," said James Taiclet, Lockheed Martin president and CEO, when proposing the acquisition last year.
See also: Lockheed Martin unveils Skunk Works flexible factory
Lockheed Martin signs up for Starlab commercial space station

Lockheed Martin completes SBIRS GEO-6 missile warning satellite

Lockheed Martin opens STAR Center manufacturing for Orion spacecraft

Lockheed Martin unveils ISR satellites for tactical warfare