France signs Nasa's Artemis Accords for space best practice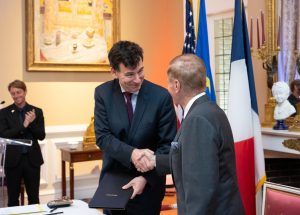 The number of countries agreeing to the Artemis Accords now totals 20, with France becoming the fifth European Union country (alongside Italy, Luxembourg, Poland and Romania) and the UK having enrolled in 2022.
"We are so pleased to welcome France as the newest member of the Artemis Accords family," said NASA Administrator Bill Nelson (pictured right, above).

"France is one of the United States' oldest allies and our partnership in space exploration dates back more than half a century. That partnership is strengthened by France's commitment to ensuring the peaceful and responsible exploration of outer space for generations to come."
The president of France's Centre National d'Etudes Spatiales (CNES), Philippe Baptiste (pictured above, left), enrolled the French space agency, signing the document prior to an event marking the CNES' 60th Anniversary, which was held at the French Ambassador's Residence in Washington
"The fact that France is joining the Artemis Accords marks a new step forward for our partnership in space with the United States, which is already of prime importance for both nations, notably in Mars exploration and Earth-observation programmes," said Baptiste.

"For our scientific community and industry, this new framework will enable us to meet new challenges and continue to be a leading world space power."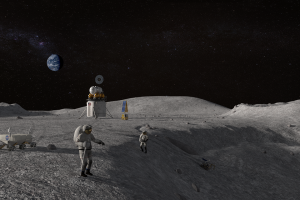 According to Nasa, the the agreements enable the implementation of key obligations in the 1967 Outer Space Treaty. They are also intended to reinforce best practices and norms of responsible behavior in space. These include areas such as the public release of scientific data, emergency assistance, the registration of space objects and orbital debris disposal.
You can read more about the Accords on the Nasa website.
Image: (top) NASA/Keegan Barber (bottom) NASA Artists' impression of Artemis astronauts on surface of Moon
See also: UK gets on board with NASA's Artemis Moon exploration programme
Nasa preps next-gen spacesuits for Extravehicular Activity Services

Spectrolab's solar cells to power NASA's Roman Space Telescope

Axiom Space preps for first private astronaut mission

NASA begins assembly of its Jupiter bound Europa Clipper