Farnell adds Connective Peripherals adapters and cables to simplify debug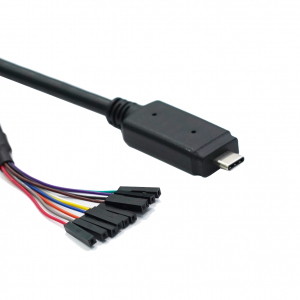 The products enable engineers to connect PCs and laptops to instruments or systems regardless of their serial interfaces.  PCs and laptops using a USB Type C port can connect directly to legacy serial interfaces, whether RS232, RS422, RS485, CAN bus, SPI, I2C or JTAG, says the distributor. Providing USB connectivity can simplify system debug and maintenance of equipment with serial ports.
Cables are available with connectors, bare ends or single-pole female receptacles, for use with systems using D-type connectors, header connectors as well as those which require wires to be soldered to the board.
Highlights of the range available in stock include the ES-U-1001 full speed USB to RS232 adapters. These are designed for a variety of equipment with serial management and debug ports. Powered from a USB port, the adapters provide a single RS232 port on a DB9 connector. Data transfer rates are from 300-baud to 250-kbaud at RS232 voltage levels with 512-byte receive and transmit buffers using buffer smoothing technology for high data throughput.
The range also includes the USB Type C high speed multi-protocol synchronous serial engine (MPSSE) to connect devices with 3.3-V digital interfaces to USB Type-C. The serial engine enables it to emulate synchronous serial protocols such as SPI, I2C and JTAG. The 0.5m cable has 10 single-pole female receptacles to provide access to the ADbus lines which are used for the SPI / I2C / JTAG signals, as well as GND and VCC.
Another adapter is the USB2-F-7×01 full speed USB to one-port CAN bus adapter.  Each adapter contains a small internal Electronic circuit board mounted inside a plastic case capable of withstanding industrial temperature ranges. There are mounting options and function indicator LEDs enabling the adapter to be used on applications starting with a portable adapter for a laptop PC through to permanent installations in industrial and commercial environments.
Lee Turner, global head of Semiconductors and Single Board Computing at Farnell said the products are "suitable for a range of industries and applications, delivering connectivity between USB and serial interfaces. Connective Peripherals' specialist range of adapter boards can extend existing product lifetimes and speed up new designs, enabling our customers to bring new products to market much faster."
Hicenda Displays recognises Easby Electronics

TTI Europe moves east ; sets up Romanian office

Voila! Digi-Key adds wireless connectivity

Distribution enters a transition phase