EW BrightSparks winner wins WorldSkills UK 'Rising Star' award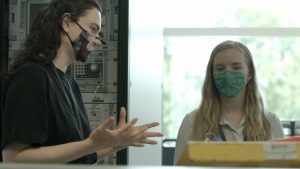 The awards took place last week, virtually, in a celebration that recognised the achievements of individuals and organisations championing diversity and inclusion right across industry.
Enter for EW BrightSparks 2022 at www.electronicsweekly.com/brightsparks
Anna (Pictured left) – who was a worthy winner of EW BrightSparks 2020 – said the award win has strengthened her resolve to help young people see what an empowering profession engineering can be, enabling people to be in a position to create solutions.
"I think engineering is a uniquely empowering profession," said Anna. "I never think of myself as a woman working in engineering – I'm an engineer. There are a whole spectrum of roles available and there is no sense that one type fits all."

"That ranges from the technical whizzes to practical minded people who can communicate ideas and bring teams together. Engineering is a very dynamic profession and I think young people would enjoy that sense of action and excitement if they knew engineering could provide it."
Anna is a member of the Women's Engineering Society Early Careers Board, leads Edinburgh's STEM team at Leonardo's site in Edinburgh.
Her recent work, for example, has included developing a space themed STEM project for Primary 7 school children at Pirniehall School in the city. She also designed a 'STEM Summer Survival Pack' during lockdown to ensure young people across the UK could keep learning over the summer months. Her latest STEM activity involved explaining how antennas and radars work at a virtual event for over 100 children across the country.
WorldSkills UK
WorldSkills UK is an independent charity working for a a partnership between employers, education and governments. It's aim is to use international best practice to raise standards in apprenticeships and technical education so more young people and employers succeed in the UK.
"Anna Hart is a tour de force and her determination to bring on young women in STEM is truly inspiring," said the CEO of WorldSkills UK, Dr Neil Bentley-Gockmann OBE. "The time and commitment she puts in to designing fantastic resources or getting out there and showing young women what they can achieve is phenomenal. It is thanks to the likes of Anna, who go above and beyond, that more people have the chance to get on in life."
Excellent, and our congratulations on this award to her.
EW BrightSparks of 2022
Please note that we are once again looking for the brightest and most talented young electronics engineers to highlight as EW BrightSparks in 2022.
To spotlight the brightest and most talented young electronics engineers in the UK today, we have teamed up again with RS Grassroots to showcase young talent within the industry. Simply complete the form on this link to enter yourself, or to nominate a deserving colleague:
Enter for EW BrightSparks 2022 at www.electronicsweekly.com/brightsparks
The showcase is now in its fifth year, we are looking for the engineers who are already making a difference in the first years of their careers, or those who are still studying but showing the promise to become the innovators and leaders in electronics in the years to come.
See also: EW BrightSparks 2020 profile: Anna Hart
Universities of Edinburgh and Southampton lead the generation of BrightSparks

The search begins for the EW BrightSparks of 2022

UKESF Survey: Future Engineering Skills Needs in the Era of Digital and AI

EW BrightSparks 2020 profile: Anna Hart