ESA preps call for Young Graduate Trainee opportunities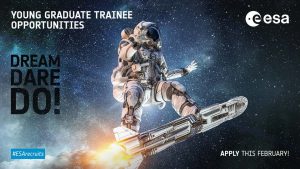 Established in 1983, the YGT Programme lasts for one year (with possible extension to a second year) and gives an opportunity to work on European space missions. Basically, every year in February, the ESA publishes around 100 YGT opportunities in science and engineering, information technology and natural and social sciences and business.
The agency describes the programme as "a launch pad for many exciting professional opportunities within Europe's space sector, renowned research institutes or, of course, ESA itself".
Masters
Open to students in their final year of a Master's degree in engineering, sciences or business disciplines and to those who have recently graduated from a Master's in one of these fields, the ESA is urging graduates to get ready to apply and prepare their CVs and covering letters.
Entrants must also be a citizen of one of the ESA Member States (Austria, Belgium, the Czech Republic, Denmark, Estonia, Finland, France, Germany, Greece, Hungary, Ireland, Italy, Luxembourg, the Netherlands, Norway, Poland, Portugal, Romania, Spain, Sweden, Switzerland, and the United Kingdom).
Note that nationals from Latvia, Lithuania and Slovenia, as Associate Members, or Canada as a Cooperating State, can apply as well as those from Bulgaria, Cyprus, and Slovakia as European Cooperating States.
There is no age limit for those who apply.
More details about the Young Graduate Trainee programme can found on the ESA website, along with an FAQ. The general Careers page for the ESA is here.
Rosalind Franklin Mars rover drives ahead for September launch

No lag for ESA's ColKa connecting astronauts direct to Europe

James Webb Space Telescope sunshield is tensioned and secured

Airbus to build Ariel exoplanet satellite