Elektra Awards 2022 – Calling Design Engineers
Screenshot_20220715_at_150344-300×297.jpg" width="300″ height="297″ srcset="https://static.electronicsweekly.com/wp-content/uploads/2022/07/21153614/Screenshot_20220715_at_150344-300×297.jpg 300w, https://static.electronicsweekly.com/wp-content/uploads/2022/07/21153614/Screenshot_20220715_at_150344-1024×1013.jpg 1024w, https://static.electronicsweekly.com/wp-content/uploads/2022/07/21153614/Screenshot_20220715_at_150344-150×150.jpg 150w, https://static.electronicsweekly.com/wp-content/uploads/2022/07/21153614/Screenshot_20220715_at_150344-768×760.jpg 768w, https://static.electronicsweekly.com/wp-content/uploads/2022/07/21153614/Screenshot_20220715_at_150344-70×70.jpg 70w, https://static.electronicsweekly.com/wp-content/uploads/2022/07/21153614/Screenshot_20220715_at_150344.jpg 1385w" sizes="(max-width: 300px) 100vw, 300px" alt="Elektra Awards 2022 – Calling Design Engineers" />
Particularly of note this year – as we celebrate the Elektra's 20th anniversary – will be the achievements of design engineers from across the industry. Specifically, we are looking for entries for Excellence in Product Design, with two awards split across these categories:
Excellence in Product Design Award (Medical)
Excellence in Product Design Award (High-Reliability Systems)
Both categories recognise design engineers who have pushed the boundaries of innovation within product development.
To be in with a chance of taking one of the top product design accolades in the industry and adding your name to the impressive list of previous winners (see below), make sure to submit your entry by 28 July.
PAST WINNERS – EXCELLENCE IN PRODUCT DESIGN AWARD (HIGH-RELIABILITY SYSTEMS)
2021 (pictured above): Microchip Technology for the Microchip LX7720 Integrated Radiation-Hardened Motor Controller
2020: Paragraf for the Graphene Hall Effect sensor
2019: OMC (UK) for the FDH1M FSMA Fibre Optic Bulkhead Receptacle with Fine Particulate Ingress Shield
2018: SpaceChips for the Agile, Low-Cost, Low-Latency, Export-Free, High-Throughput Transponder for Satellite-Based Internet
PAST WINNERS – EXCELLENCE IN PRODUCT DESIGN AWARD (MEDICAL)
2021: OmniVision Technologies for the OH0TA OVMed Medical Image Sensor
2020: OmniVision Technologies for the CameraCubeChip
2019 Winner: Melexis Technologies for the world's smallest medical grade FIR sensor
2018 Winner: Leman Micro Devices for the V-Sensor & App for smartphones
Categories
We look forward to receiving your submissions over the next week and don't worry, if these aren't the categories for you, we have 14 other categories to choose from.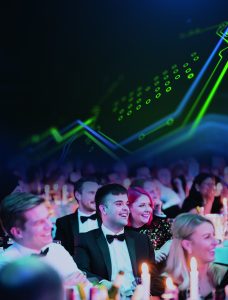 Entering is simple and free. You can find all the info you need to complete your entry on the Elektra website, including the criteria and information requirements.
The Awards will take place on Wednesday 30 November at Grosvenor House, Park Lane, London. Join influential figures, decision makers and leaders in celebrating your success at the industry party of the year!
Clive Couldwell, the group editor of Electronics Weekly writes:
"Come November you could be taking centre stage at Grosvenor House, collecting one of our prestigious trophies, surrounded by VIPs from within the electronics industry at an extra-special 20th anniversary edition of the Elektra Awards… but it all starts with an entry!"
Elektra Awards 2022 – Deadline for entries extended

Maximise your Elektra Awards 2022 entry

Elektra Awards celebrate 20 years: Meet the selection panel

Elektra Awards 2022 open for entries