DASA funding seeks to support telexistence technology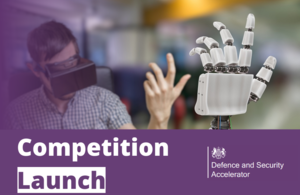 Such telexistence technology enables organisations to undertake tasks – in hazardous environments – without physically being present.
Telexistence
For example, it combines elements of telepresence, enabling an operator to see and hear as though in the remote environment, with robotics and wearable technologies, enabling the operator to interact with the remote environment, and with haptic feedback and sensors, enabling the operator to touch and feel elements of the remote environment
Specifically, the funding is being made available to launch "Telexistence Phase 2", on behalf of the Defence Science and Technology Laboratory (Dstl) and the Nuclear Decommissioning Authority (NDA).
While the total funding available for the competition is £1.3 million, DASA says it expects to fund several proposals with a maximum value of £400k per proposal.
The submission deadline is Midday on Wednesday 6 April 2022 (BST).
"We are looking for innovators to develop a complete telexistence system. This will involve the integration of telepresence, robotic and haptic technologies on to a single platform. Solutions must enable the user to experience and interact with the remote environment as if they were physically there."
DASA will invite successful applicants to its laboratories for evaluation of their systems against optional use cases. These will be one of the following: Specialist Nuclear Decommissioning Tasks, Explosive Ordnance Disposal (EOD), and Defence and Security Medical applications.
Webinars and one-to-one teleconference sessions will support those making submissions. You can register and read more information here.
Prestwick Spaceport plans for position in European space race

James Webb Space Telescope sunshield is tensioned and secured

Elektra Awards 2021 – The Winners

DARPA entangles BAE Systems in quantum technology for military antennas