DARPA seeks in-space demonstration of nuclear thermal rockets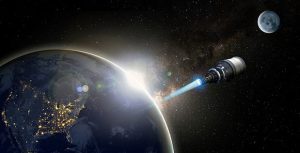 Specifically, DARPA is after proposals for Phases 2 and 3 of its DRACO (Demonstration Rocket for Agile Cislunar Operations) programme, which is for the design, development, fabrication, and assembly of a nuclear thermal rocket engine. The goal is to execute an in-space flight demonstration of nuclear thermal propulsion in 2026.
Thermal propulsion
Previously, Phase 1 of the DRACO program involved two parallel risk reduction activities. "Track A" focused on developing a preliminary design for the rocket engine reactor, said DARPA. "Track B" concentrated on developing a conceptual design for the in-orbit demonstration system.
The R&D agency, which is responsible for the development of emerging technologies for use by the U.S. military, says the developments are to "enable time-critical missions over vast distances in cislunar space".
You can see the official solicitation here.
"The United States employs maneuver to maintain advantages in the land, sea, and air domains. However, maneuver is more challenging in space due to propulsion system limitations," said Major Nathan Greiner, program manager in DARPA's Tactical Technology Office. "To maintain technological superiority in space, the United States requires leap-ahead propulsion technology that the DRACO program will provide."
DRACO
The goal of DRACO is to demonstrate a nuclear thermal propulsion (NTP) system on orbit.
According to the agency, NTP uses a nuclear reactor to heat propellant to extreme temperatures before expelling the hot propellant through a nozzle to produce thrust. Compared to conventional space propulsion technologies, NTP offers a high thrust-to-weight ratio around 10,000 times greater than electric propulsion and two-to-five times greater specific impulse (i.e. propellant efficiency) than chemical propulsion.
See also: DARPA entangles BAE Systems in quantum technology for military antennas
Northrop Grumman plans Blackjack positioning, navigation and timing LEO payload

DARPA plans a DRACO nuclear-powered rocket to cislunar space

Stefanie Tompkins chosen to lead DARPA

SEAKR dealt next phase of Blackjack Pit Boss space programme