Comet Interceptor mission plans to 3D-map a comet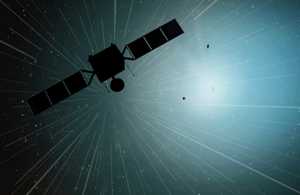 The Comet Interceptor mission was formally adopted by the European Space Agency (ESA) at a meeting in Madrid last week, with the next step to select a contractor to build the spacecraft and a robotic probe.
It was originally proposed by an international team led by University College London's Mullard Space Science Laboratory (MSSL) in Surrey and the University of Edinburgh.
Comet
The UK Space Agency (UKSA) reports that is it is due for launch in 2029 and will see one main spacecraft and two robotic probes travel to an as-yet unidentified comet and map it in three dimensions.
The second probe will be built by the Japanese Space Agency (JAXA), which will also be involved in the mission.
The reason for studying the comet is that its surface will be largely unchanged since the time of the Solar System's, formation several billion years ago, say the researchers.
"This is a huge milestone for the Comet Interceptor mission," said Caroline Harper, Head of Space Science at the UK Space Agency. "After an intensive period working on the mission design feasibility and definition, we are ready to move forward to the full implementation stage."

"Comet Interceptor will not only further our understanding of the evolution of comets but help unlock the mysteries of the Universe."

Fluxgate Magnetometer
UKSA has so far provided £2.3 million in funding for two instruments on the mission: the Modular InfraRed Molecules and Ices Sensor (MIRMIS) instrument and the Fluxgate Magnetometer sensor.
The former, MIRMIS, is led by the University of Oxford and will provide information such as the comet's shape, size and rotation state.
The latter, led by Imperial College London, will provide high accuracy and high-time resolution measurements of the comet's magnetic field size and direction.
Spacecraft
"It is very exciting to be part of a mission that follows a completely new approach: designing and building the spacecraft before the target is even discovered," added Professor Colin Snodgrass, at the University of Edinburgh.

"This opens up opportunities to visit space objects that were completely inaccessible before, such as comets entering the inner solar system for the very first time, or possibly even interstellar objects that formed around a distant star."
Image: Geraint Jones, UCL Mullard Space Science Laboratory – an artistic impression of the Comet Interceptor mission
See also: Jaxa ball-shaped robot to explore lunar surface
UK's first satellite launch to serve CIRCE space weather monitoring mission

Spaceport Cornwall to host UK's first satellite launch this summer

Two-brained Lord appointed as UK Space Agency Chair

UKSA measures size and health of UK space industry