Axiom Space preps for first private astronaut mission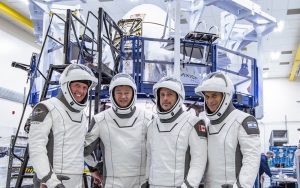 The privately funded mission, to the International Space Station (ISS), is a fully commercial flight involving commercial spacecraft. And its ultimate aim is the construction of a private space station, Axiom Station, in low-Earth orbit (LEO).
To be precise, a Space X craft – Crew Dragon – will fly the four Axiom Space astronauts (pictured) to and from the existing space station to take part in commercial research, outreach, and pre-approved commercial and marketing activities.
The launch will take place at NASA's Kennedy Space Center in Florida on Friday, at 11:17 a.m. EDT. Docking with the ISS is scheduled for Saturday, 9 April at approximately 7:30 a.m. EDT.
During their eight days aboard the ISS's orbiting laboratory, the crew are expecting to conduct a number of Axiom Mission 1-specific experiments. For example, "TESSERAE Ax-1" will test the self-assembly and docking of an autonomous, self-assembling robotic swarm of tiles in microgravity.
TESSERAE stands for  Tessellated Electromagnetic Space Structures for the Exploration of Reconfigurable, Adaptive, Environments. The study builds on a previous test aboard the ISS in 2020 in which seven tiles successfully self-assembled in microgravity, says NASA.
The idea is to helps assess the feasibility of constructing satellites and space habitats in orbit, which could support future missions to the Moon and Mars. The ISS National Laboratory is sponsoring the experiment.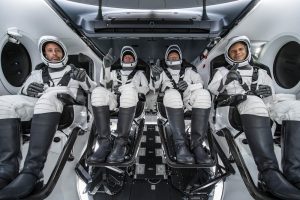 The Ax-1 crew members are Commander Michael López-Alegría of Spain and the United States, Pilot Larry Connor of the United States, and Mission Specialists Eytan Stibbe of Israel and Mark Pathy of Canada.
According to Axiom Space, it will be the first of several proposed missions to the ISS. The company describes it as "an important step toward Axiom's goal of constructing a private space station, Axiom Station, in LEO that can serve as a global academic and commercial hub".
Images: SpaceX
SpaceX offers OneWeb route back to satellite launches

NASA begins assembly of its Jupiter bound Europa Clipper

Nasa opens Phase 2 of $5m Lunar Power Prize Competition

Nasa to invest another $200m to help new technologies to market