Australia, South Korea sign MoU for peaceful space cooperation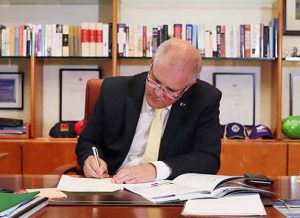 A meeting between Australia's Prime Minister Scott Morrison and South Korea's President Moon Jae-In took place earlier this week in Canberra, following on from discussions at the Carbis Bay G7 summit in the UK.
The agreements will cover (according to translations) strategic partnerships around earth observation, orbital debris management, satellite navigation and space exploration.
"Australia through our National Space Agency in Adelaide, [is] leading the way with these new partnerships that will see Australia also play a significant role in space," said Morrison.
He also highlighed the space cooperation was for peaceful purposes.
"Australia established a space agency in 2018 and is spurring efforts to foster its space industry," said Moon. "Korea has also set a new turning point for space development with the launch of the nuclear rocket this year."

"I hope that the MoU regarding space cooperation will enhance exchange and foster cooperation in fields ranging from space exploration and the launch vehicle industry to satellite navigation, and I hope this agreement begin, become the stepping stone for the two countries to expand into space together."
Other MoUs were signed for cooperation on rare-earth materials and low and zero emissions technology.
See also: LeoLabs selects Australia as site for next space radars
South Korea signs up for Nasa's Artemis Accords