Airbus to build Ariel exoplanet satellite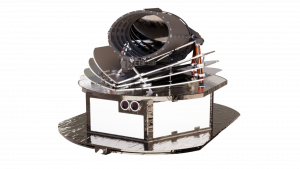 Following Cheops, which launched in 2019, and Plato, scheduled for launch in 2026, Ariel will be the third dedicated ESA exoplanet mission. It is planned for launch in 2029 and will study the composition of exoplanets, how they formed and how they evolve. It will do this by surveying a sample of 1,000 extrasolar planets, simultaneously in visible and infrared wavelengths.
The contract is valued at around € 200 million, and Airbus was previously prime contractor for the Cheops mission.
"Airbus has extensive experience of leading ground-breaking science missions, including Juice, Gaia, Solar Orbiter, Lisa Pathfinder and Cheops, on which we are building for ESA's latest science mission, Ariel," said Jean-Marc Nasr, head of Space Systems at Airbus.

"In our Toulouse facilities, the largest space site in Europe, we have all the resources, facilities and expertise to design, manufacture and integrate the spacecraft and actively support ESA with payload development. Airbus Stevenage is fully integrated in the prime team for the engineering of the avionics, Radio Frequency communication and electrical design of the platform, as successfully proven for the development of Gaia".
The company is leading a European industrial consortium. While the Toulouse facility in France will be the main site for designing, manufacturing and integrating the spacecraft elements, Airbus Stevenage in the UK will lead the engineering of the avionics, radio frequency communication and electrical design of the platform.
According to the agency, it will be the first mission dedicated to measuring the chemical composition and thermal structures of exoplanets, linking them to the host star's environment. This will, hopes ESA, fill a significant gap in knowledge of how the planet's chemistry is linked to the environment where it formed, or if and how the type of host star drives the physics and chemistry of the planet's evolution.
Ariel payload
The mission's payload module, which includes a one metre-class cryogenic telescope and associated science instruments, is provided by the Ariel Mission Consortium. This comprises more than 50 institutes from 17 European countries, with NASA also contributing.
For its launch, the spacecraft is anticipated to ride on ESA's new Ariane 6, together with the Comet Interceptor mission. It will operate from the second Lagrange point (L2), 1.5 million kilometres directly 'behind' Earth as viewed from the Sun, on an initial four year mission, says ESA.
Pictured above is an artist's impression of the exoplanet satellite Ariel.
You can read more about the Ariel mission here. The range of ESA's exoplanet missions are pictured below.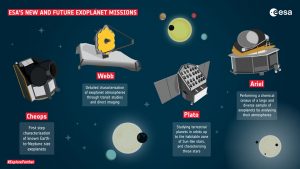 Images: ESA
Elektra Awards 2021 – The Winners

DARPA entangles BAE Systems in quantum technology for military antennas

The search begins for the EW BrightSparks of 2022

OneWeb strikes connectivity deal for Saudi Arabia smart city region