AFRL selects academic winners for Space University Research Initiative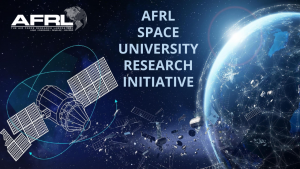 Newly-established, SURI is intended to be a first step in improving "the transition of critical concepts from academia into revolutionary new military technologies" for the U.S. Air Force and U.S. Space Force.
In March 2021, AFRL-funded awards of up to $1,000,000 per year per award (spanning three to five years) were advertised in the areas of 'Space Logistics' and 'Mobility and Space Domain Awareness'.
"AFRL is all in on supporting the Space Force via its activities in basic and applied research and advanced development," said Dr. Timothy J. Bunning, AFRL Chief Technology Officer. "Expanding our partnerships and linkages with academia through the SURI program and its focused efforts is an exemplar of focused space innovation efforts needed by the DAF and our Airmen and Guardians."
Of 40 full proposals received, AFRL selected two multi-institute teams to participate in the first class of the SURI pilot programme.
Space Logistics and Mobility
For Space Logistics and Mobility, AFRL said the intent was to "identify basic research enablers for the space logistics and servicing paradigm to include assembly, refueling, repairing and repurposing".
The winning proposal, "Breaking the 'Launch Once, Use Once' Paradigm", was submitted by Principal Investigator, Prof. Howard Choset, Carnegie Mellon University (CMU) along with six other partners from CMU, Texas A&M, University of New Mexico, and Northrop Grumman Corporation.
Using their combined expertise in artificial intelligence, robotics (hard and soft), additive manufacturing, astrodynamics, estimation theory, control, and space systems, the team says it seeks to address the non-existent capability of On-orbit Servicing, Assembly, and Manufacturing (OSAM) in the geosynchronous equatorial orbit (GEO) belt.
Space Domain Awareness
For Space Domain Awareness, the intent was to "identify basic research enablers for innovative SDA applications pertaining to sensors and measurement strategies, data fusion and autonomy".
Prof. John L. Crassidis, University of Buffalo submitted the winning proposal titled, "Space Object Understanding and Reconnaissance of Complex Events (SOURCE)" along with six partners from The Pennsylvania State University, Georgia Institute of Technology, Massachusetts Institute of Technology, and Purdue University.
You can read more information about the Space University Research Initiative online.
UK Scholarship Scheme
On a related theme of Space and Academia, here in the UK, the government has also just launched its UK International Space University Scholarship Scheme
Specifically, the UK Space Agency funds a scholarship scheme to support UK citizens who wish to attend the International Space University's (ISU) programmes, and the process is now open for registration.
Any UK citizen wishing to apply for UK Space Agency support for the Space Studies Programme (SSP) or the MSS Programme should apply via the ISU website, which includes application forms and further instructions.
The ISU is an institute of higher education in France, and to be considered for UK Space Agency funding you need to apply no later than 15 March 2022.
See also: US, UK defence partners run Swarm and Search Capture the Flag AI challenge
Northrop Grumman to design SIGINT sensor prototype for U.S. Air Force

Northrop Grumman plans Blackjack positioning, navigation and timing LEO payload

Northrop Grumman finalises contract for NASA Gateway habitation module

Northrop Grumman solar arrays power OneSat satcoms